Zulat Pharmacy Sdn Bhd. (120882-M)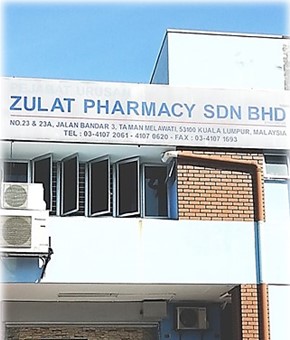 To continue supporting the local pharmaceuticals markets by providing high quality products and sourcing niche market products.
Commitment towards excellence in meeting customer's needs and providing solutions
Established in 1984, we are continuing our service providing solutions to the Malaysian pharmaceutical needs. Zulat Pharmacy Sdn Bhd is a full service pharmaceutical importer, wholesaler and distribution with strong roots in Malaysia and growing in Brunei.
We are licensed supplier to Ministry of Health (MOH), Ministry of Education (MOE) and Ministry of Defence (MOD) hospitals and primary care centre. We deliver top quality products to government hospitals, tender board and healthcare professionals in Malaysia.
Our approach is anything generic, short supply products, un-registered products, raw materials, lab chemicals and medical devices. We put our passion into
everything
we do. Customers believe us on our trustworthy, transparent and reliable partner.
With more than three decades of experience marketing and selling generic medicine in Malaysia, w
e work together to make a difference. Our underlying strength in dedication and motivation to deliver our
promises
.
We have diverse portfolio of top quality products for distribution that keeps us one step ahead in the markets. Our main areas of expertise include :-
Antibiotics

Anti-tuberculosis

Dermatology

Marketing

Medical Device

Orphan Drugs (MOH preferred agent)